Earth
Fire
Sky
Water
Classic
Freshwater pearls
Childrens, casual and glass
Unique jewellery hand-made in the Highlands of Scotland by Elvira Neame. Each piece is made individually from my own designs, using Sterling Silver, Semi-Precious stones, Freshwater Pearls, Amber, Shell and other natural materials, which are carefully sought and chosen for their quality, colour, lustre, texture, shape and any unusual properties.

For this reason many pieces are 'one-offs' or limited editions, and designs are continually changing with new materials found. The pictures on these pages represent the type of jewellery I make, and if I cannot reproduce a piece exactly, I can produce something similar. Many of the designs can be made in different colours, and all of them can be made to measure. I can do personal orders, commissions and bespoke jewellery, and I can match my jewellery to your clothes. I will restring necklaces and repair any jewellery if it's possible. I also offer a range of jewellery for children and young people. All pieces can be made using Sterling Silver, 9ct Gold, Gold-Filled, and Silver or Gold Plated finish, as required.

Please remember that designs, colours and sizes are interchangeable. It is not possible to show everything, but it is possible to make most things. For example, any amount of single or multiple drops can be put on a necklace in any colours, as in picture below.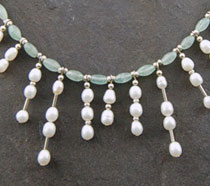 Single strands can be double or triple. Matching earrings and bracelets can be made.

To see the full collection and other new designs, come and visit me at the shows and fairs listed in the schedule of events page.
Elvira is an Anglo-Saxon name meaning Elf Counsel. This is elf-crafted jewellery.

"Mae Govannen!"



site by Richard Keenan Design